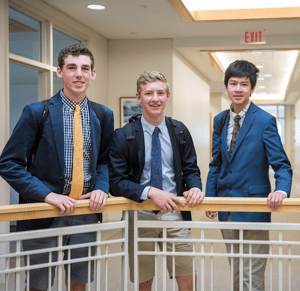 In a supportive and engaging single-sex environment, students establish a foundation for making responsible decisions, forge healthy relationships and step out of their comfort zone to explore their full potential both inside and outside of the classroom.
Renowned educators and psychologists have published volumes on the value of a single-sex education. While young men can and do excel in many types of educational institutions, schools designed for boys nurture confidence and inspire growth, while fostering academic success and the development of a young man of character in a balanced and supportive setting. How do single-sex schools foster this personal growth and development?:
Schools for Boys Understand and Celebrate Boys
Schools that make the intentional decision to focus on the intellectual, physical, social and emotional lives of boys understand the complexity of boyhood. At Salisbury, we recognize and work with a young man's academic and developmental needs. Our teachers implement teaching strategies that address learning styles specific to boys. We also know that boys are physically active and often competitive. With flexible classroom spaces and 725 acres for outdoor teaching and exploration, Salisbury students remain engaged and inspired to extend themselves academically and extracurricularly.
For example, our Environment Science class, while studying meteorology, installed a civilian weather station atop one of the academic buildings, which delivered live weather data to a popular forecasting website. Later, the class partnered with our media lab to film a weather report in front of the green screen. From classroom lessons, to the tactile installation of the weather station to the media arts weather report, students were provided a multimodal and differentiated educational experience, tailored to the learning style and developmental needs of boys.
Schools for Boys Build Good Men, Brothers, Husbands and Neighbors
In today's world, perhaps the most important lessons taught at school are those surrounding character. At an all-boys school, fostering a commitment to integrity, empathy and respect are the School's first priorities, and educating students on how to be good men informs every aspect of the day.
On the Hilltop, learning extends beyond the classroom. Our extracurricular programs and student clubs and organizations such as Big Brothers, Chess Cub, The Collaborative Leadership Initiative, Debate Club, Jazz Ensemble, Investment Club, Outdoor Club, Chapel Vestry, Peer Leaders and Student Government each provide students an avenue for character-based learning and the opportunity for personal growth. It is important to note that at all-boys schools, boys do not compete with girls for resources or leadership positions. As a residential environment, our students become immersed in a dynamic setting and extensive adult supervision lends itself to healthy adolescent interaction and relational learning that ultimately leads to character development. Still, it is often the experience of performing with the acapella group or playing on the lacrosse team that affords a lesson in courage, perseverance and teamwork.
Schools for Boys Foster Brotherhood and Lifelong Friendships
As relational learners, boys thrive in an educational environment where they first establish positive and trusting relationships with their teachers. When a young man feels known and valued, he is more likely to develop a sense of confidence. This model of relational learning enhances the learning process but also contributes to a boy's sense of belonging to his class, his team and his school.
At Salisbury, boys feel the camaraderie and kinship, and are welcomed into a healthy social environment that is short on pretense and posturing. Our inclusive culture allows boys to be themselves and embrace the values and interests of others. For many Salisbury graduates, the friendships they developed with their peers and with faculty are among the most important relationships they carry with them upon leaving the Hilltop.