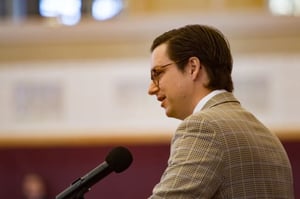 How do we make space for the often misunderstood 21st century boy to emerge? How can we steer him on the path to becoming a gentlemen? What ingredients compose our fertile Hilltop soil? Healthy competition, the passion to lead from behind, and acceptance. Our job is to line up next to the boys, shoulder to shoulder, and light the way a little brighter. Education science says that with boys, you can't lecture from above them or opposite a desk when they're struggling. Instead, sit down next to them and spread out the materials in front of you, so you're both looking at the problem shoulder to shoulder. Attack it as a team.
There are few differences in what boys and girls can learn. But there are big differences in the best ways to teach them.
The ancient Chinese philosopher Lao Tzu wrote: "With the greatest leader above them, the boys barely know one exists. The teacher works without self-interest and leaves no trace." This approach is ideal for project- based learning. Boys are excellent at it. It gives them ownership.
Boys love to compete, but it has to be competition that's fair, that's outcome is uncertain, and that declares a winner. Yes, competition can lead to bickering. That's okay, they learn to resolve differences, our boys are resilient, and learning how to move on from failures and grudges is a wonderful skill to acquire before the stakes are raised later in life.
Trevor Rees, English Department Chair, Dorm Parent, Advisor and Squash Coach, BA Yale, MBA UNC at Chapel Hill