We've all been there. Your history teacher assigns you a topic, you spend a week or so in the library researching, and you write a paper with a well-developed thesis, making sure your citations are correct and your grammar, spelling, and punctuation are on point. You turn the paper in and after a few days, you get it back with a grade. The teacher moves on to the next thing, and, while you surely developed your skills during the process, it's not long before the paper is a distant memory other than its place in the grade book and, perhaps, the bottom of a backpack. That's usually the end of it, but it doesn't have to be.
The winter trimester at Salisbury School is a time when we take a break from the traditional end of trimester exams and students demonstrate their understanding primarily through project work. Well-designed projects
combine content mastery, meaningful work, and personal connection
. They create memorable learning experiences for students that won't be lost in a backpack or tossed in a recycling bin.
These long-term learning experiences also help students develop life and workplace skills that employers will look for.
Most importantly, we know first-hand that teenage boys
learn more joyfully when they can get their hands on the material rather than just reading about it in a book.
The third form ancient history ancient Greek city-states project is a prime example of this. The history department at Salisbury School is committed to teaching our third formers foundational skills for learning history. We emphasize reading for comprehension and critical thinking, note-taking and outlining, and writing on researched topics. Students practice these important skills by conducting research on ancient Greek city-states during the time of the Peloponnesian War. The locations shift and evolve year after year based on student interest and available information for research, but typically the students need to develop expertise on topics like government, economy, trade, religion, art, architecture, society, and military history.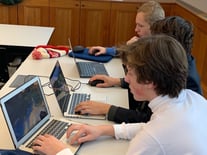 As the research is conducted, classes meet regularly to share information and work together on city planning and design. These planning meetings are such fertile ground upon which to practice the skills of collaboration and teamwork. Like any other team environment, leaders emerge, and delegating is essential. Disagreements are worked through, and shared goals are identified and prioritized.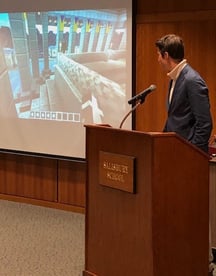 When research and planning is done, what comes next moves our boys beyond words and into worlds. They use their knowledge and preparation to recreate their city-states in Minecraft. For weeks, the classroom environments are a buzz with activity, discussion, and plenty of challenging work. In the early phases of the build, our motto is "embrace the mess." As the days carry on, the students wow us with their focus, collaboration, and creativity. In the end, each section of ancient history has produced a unique world that reflects the historical realities of the city-states they researched. The students then participate in Thucydides Day, showcasing their city-states to a panel of judges comprised of alumni of the project from past years. They receive accolades for best individual elements, demonstrated research, presentational skills, and best overall city-state.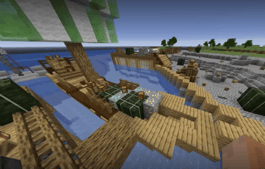 This project, in its fourth year, has been by far the highlight of the student experience in history class. The creativity and virtual hands-on aspect of the build provides a meaningful and exciting way for them to show us what they've learned through their research. The necessity for group work and collaboration teaches and improves key skills that will serve them well in school and beyond. And if the teacher's perspective on this does not convince you, look at what past students have said in their reflections:
"This was just super fun. It brought the whole class together and created an environment that was fun while we worked. With this lively and fun classroom, it made me feel like we were just having fun and were not doing homework or class work."
"It was amazing how dedicated we were to making our city look cool, while learning a lot about life in Athens. My favorite part of the project was the building phase. I built many houses and the bouleuterion, which helped me develop my understanding of what life was like in Athens. This project was awesome!"
"It was extremely fun doing something I have prior knowledge on and being able to share my knowledge with my classmates. We also had many problems which we had to solve and troubleshoot which is a great learning experience in my opinion."
"I think in order to learn something, you must like the process of learning it, which is the reason I like this project the most."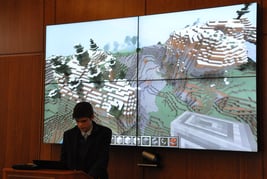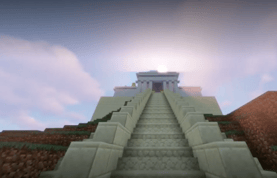 *Note: Photographs were captured prior to March 2020.