In February, students and faculty took a break from our regular schedule and spent a Saturday morning sharing similar interests and engaging in unique activities both on and off campus. Community Day provides students and faculty with a day to devote their academic attention to a unique interest. Some spend the morning delving deeper into a more traditional academic subject like American Sign Language, underground music, or Chinese calligraphy, while others pursue a more unique activity like ice fishing, making maple syrup, or becoming certified in CPR. By breaking out of the normal routine and pursuing passions or trying new things, our students and faculty share in the experience of making, exploring, experiential learning, and discovery.
Beyond The Classroom
The Northwest Corner is rich in culture and history, and is set in the foothills of the Berkshire mountains. On the Hilltop, Salisbury's campus is
situated along the Appalachian Trail and against the shore of Lake Washinee. During Community Day, our boys took advantage of our unique setting by heading outside, exploring the surrounding area, and engaging with the greater community.
This year, our students snowshoed the trails of campus out to Rand's View with outdoor enthusiast Mr. Mayer. Fishermen Mr. Wynne and Mr. Phelps led a morning of ice fishing on Lake Washinee. Others took part in excursions off campus to a local maple syrup producer, or to Battle Hill Forge, or the Harney Tea Factory in nearby MIllerton, NY. Several boys combined their passion for hockey with serving the community and spent the morning helping to coach local youth hockey program "Team Synergy."
On campus, our students broke out of the classroom and took part in more unique offerings like earning their certification in CPR, learning the strategy behind games like backgammon, darts, and chess, and, lots of laughs were had with public speaking teacher and comedy enthusiast Mr. Severo during his improv workshop.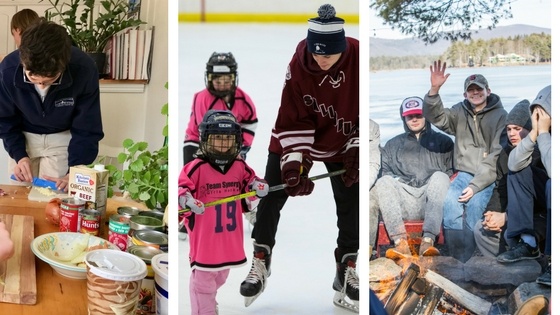 Sharing Passions and Expertise
The offerings on Community Day are numerous and span a broad range of interests and activities, as faculty members are encouraged to share their passions, interests and expertise with our students.
Chinese teacher Mr. Luo shared the art of Chinese calligraphy, teaching students the basics of this ancient writing technique with specialty brushes and ink. Mrs. Delgado led a class on the basics of American Sign Language. French teacher, Ms. DelFosse, blended her passion for cooking with her Belgian roots, and taught boys to make Belgian waffles from scratch. And, Rev. Hall shared his mastery of Carolina barbecue to smoke ribs, craft the perfect sauce and make hot skillet cornbread. In the arts wing, Mr. Weinstein and Mr. Weisman taught the basics of woodworking. And, Mr. Russell shared his passion for music by leading a workshop on "music from the underground." Mr. Beattie led a hike up Lion's Head Trail in Salisbury, and rock-climbing enthusiasts Mr. Morsch and Ms. Paluszek taught boys the basic of bouldering.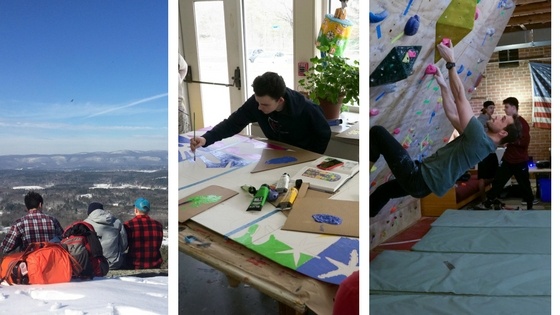 What's the Point?
The students at Salisbury, the top all-boys school in New England, live full lives on the Hilltop and devote their time to academics, athletics, and the School community. By stepping away from our usual routine and engaging in meaningful work, getting outdoors, and sharing passions, Community Day allows students and faculty to forge bonds and embark on a more well-rounded educational experience, while fostering the Salisbury brotherhood.