There are some universal truths for applicants, no matter what country a student is from; a student wants to find the right match academically and socially, be challenged and supported, and have a positive outcome result.
If you were one of the first students at Salisbury from China a decade ago, you would be making a bit of a leap of faith. Now, with many strong alumni ambassadors and a network of current and past parents, one can make a well-informed decision.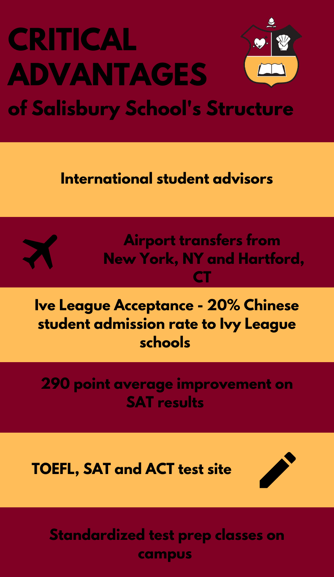 Schools like Salisbury offer well-structured, supportive and safe environments where boys have always had the opportunity to maximize their growth. One could pick a day school, a large boarding school or elect to attend a westernized school in China. However, we would challenge anyone to find a more optimal environment for those looking for exceptional growth and to be well positioned for a successful future. Our highly selective admission process allows us to enroll aspirational boys. And, our academic program, numerous extracurricular offerings, and leadership positions enable Salisbury students to develop into well-rounded, motivated and extraordinary graduates.
There has been a decline in applications from China to US boarding schools in recent years. But there are still many well qualified applicants for all the mainstream boarding school pools. Our admissions strategy has been consistent for the last ten years. We have elected to work with only the most respected and well vetted consultants. Together, we best optimize a strategy for success at Salisbury and in the college process. As we partner with our Chinese students and their families, we provide strategic advantages to foster growth, connection and achievement.
As you consider boarding schools in the US, one final caveat, do not trust any ranking websites. While the information on those sites may be helpful, the rankings are subjective at best.