At the 2018 Independent Educational Consultant Association conference, Dr. Jean M. Twenge presented her findings that were published in her book, iGen, Why Today's Super-Connected Kids Are Growing Up Less Rebellious, More Tolerant, Less Happy-and Completely Unprepared for Adulthood. The statistics she shares are remarkable and concerning. We all have read similar research. Just recently, one of our boarding school colleagues led an excellent, similarly themed workshop at the annual TABS conference. Obviously, this topic is "front of mind" with educators right now.
Salisbury School has traditionally been slow to adopt new technologies or to chase academic fads. One may interpret this as being staid or too traditional. Quite the contrary! As a boys school, our consistent question has always been "does this fit with how boys best learn?" One could make the argument that boarding schools are particularly well equipped to foster good digital hygiene both in the classroom and in one's free time. Academically, we incorporate digital research literacy into our curriculum. This is particularly pertinent to internet research. Furthermore, guest speakers have addressed the dangerously additive digital world with our boys, especially gaming. It is clear that one's working memory can be greatly affected.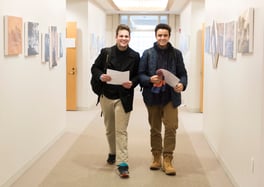 To promote a positive culture and our health as a community, we have placed thoughtful limitations on technology use: during the academic day and study hall the use of cell phones is limited and gaming is blocked, the internet is shut off at lights out, inappropriate websites are prohibited on our server, and we use AI to scan email to prevent phishing attacks. While not perfect, all these tools combined create a culture of intentional thoughtfulness regarding technology use.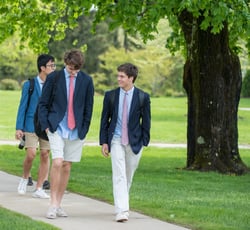 Imagine, most surveys or statistics identify how long or how often a teen is on their device. Perhaps the more accurate or pertinent statistic would be to measure accurately how many hours a teen is NOT on his smart phone. At Salisbury, excluding sleep, which we hope is at least 8 hours, one is prohibited from his smart phone at least 6 hours during the academic day, a few hours during their afternoon sport or activity, and two hours at night for study hall. Even considering that all of us will use our device in the passing minutes between class or activities, we are optimistically creating a healthier more interactive educational environment for young (male) minds to grow. As we better understand the neuroplasticity of the adolescent brain, we must be optimistic.
Our goal at Salisbury is to re-define the term "connectivity" to include the most important human of elements, peers and mentors.