We've all been there. Your history teacher assigns you a topic, you spend a week or so in the library researching, and you write a paper with a well-developed thesis, making sure your citations are correct and your grammar, spelling, and punctuation are on point. You turn the paper in and after a few days, you get it back with a grade. The teacher moves on to the next thing, and, while you surely developed your skills during the process, it's not long before the paper is a distant memory other than its place in the grade book and, perhaps, the bottom of a backpack. That's usually the end of it, but it doesn't have to be.
The winter trimester at Salisbury School is a time when we take a break from the traditional end of trimester exams and students demonstrate their understanding through project work. Well-designed projects combine content mastery, meaningful work, and personal connection. They create memorable learning experiences for students that won't be lost in a backpack or tossed in a recycling bin. These long-term learning experiences also help students develop life and workplace skills that employers will look for. Most importantly, we know that educating boys means understanding that the male brain, among many of its unique qualities, learns better through symbols, abstractions, diagrams, pictures, and objects moving through space than simply with words.
Last winter's third form ancient history Greek city-states project was a prime example of this. The history department at Salisbury School is committed to teaching our third formers foundational skills for learning history. We emphasize reading for comprehension and critical thinking, note-taking and outlining, and writing on researched topics. Students practiced these important skills by researching three ancient Greek city-states; Corinth, Samos, and Argos. Students produced written pieces reflecting their area of specialization within that city-state, becoming "experts" on government, economy and trade, religion, or art and culture.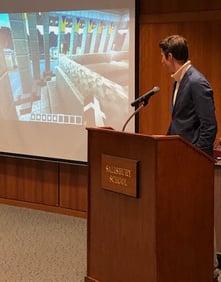 What came next moved our boys beyond words and into worlds. They used their knowledge to create city-states in Minecraft. The created worlds had to reflect the historical realities of the city-states they researched and all creative decisions needed to be achieved collaboratively.
Upon completion of the Minecraft city-states, the students participated in Thucydides Day, showcasing their city-states and putting their politics to the test. First, students presented their city-states. Each was unique and creative, and demonstrated all they had learned about the world of ancient Greece. For example, the fictional city-state of Darkos was an island nation with a powerful navy. The students put shipwrecks in the waters off the coast to prove it.
Students then had their understanding of power politics tested by a simulation. Each city-state had to respond to a threat by allying with Athens or Sparta, or remaining neutral in the conflict to come. As a conclusion to this project-based learning experience, the students wrote individual position papers on whether or not they agreed with their city-state's position, a further opportunity to demonstrate their understanding not just of their city-state, but also of the broader geopolitical topics we learned about over the trimester.
All in all, the third form Greek city-states was a success. The student engagement during the city-state creation process was intense! The use of Minecraft made it possible for all of them to work hard but it also required plenty of collaboration, communication, and compromise. The energy and excitement at Thucydides Day demonstrated not only how much the students learned, but also a high level of ownership. History truly came alive!
At an all-boys institution like Salisbury, project-based learning experiences like the third form Greek city-states project are critical, and most often a huge success. Our faculty are experts in educating boys and by tapping into the strengths of the male brain, project-based learning experiences provide boys the opportunity to master content while honing essential skills that extend beyond the classroom walls.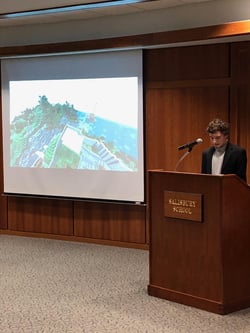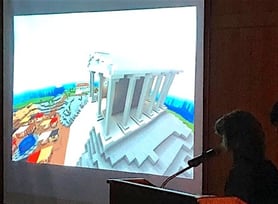 *Note: Photographs were captured prior to March 2020.