Students at the nation's top independent schools live rich and full lives. During their daily routine, students cram in a challenging array of courses, athletic practices, extracurricular commitments, community service work, and a demanding homework load. Although there is an extraordinary sense of accomplishment that accompanies this packed schedule, the epidemic of overscheduling and high-anxiety environments affecting teenagers can stifle creativity.
At Salisbury, the top all-boys school in Connecticut, students have structured yet balanced schedules filled with rigorous academics, extracurricular opportunities, community outreach work, and competitive athletics. Students are afforded time to reflect, create, and explore self-expression through various mediums. For boys, this often means combining their passions with cutting edge technology and providing them with the time, space and toys, to explore the arts in a multimedia world.
The William E. Buehner Media Lab, which opened in 2015, has become one of the most exciting and vibrant areas on campus. Buzzing with the latest equipment, technology and software, Salisbury boys embrace the creative process to generate impressive works of digital art. Each trimester, students are offered courses including digital photography, videography and graphic design. Often, the students enrolled in these courses pursue projects that reflect their passions, interest and activities such as music, mountain biking, lacrosse or simply their daily lives on the Hilltop.
Videography and photography teacher Ian Johnson's enthusiasm is contagious and Salisbury students come alive as they are taught the mechanics of shooting film, editing footage, layering sound, tweaking lighting, and managing project production. In the design studio, Natalie Will shares her personal passion for graphic design and enlightens students as they navigate digital illustration, layout, editing, typography and printing. Students are empowered with knowledge while being granted the freedom to design and produce.
Be sure to check out our social media channels, Instagram, Facebook and Twitter, this week as we feature highlights from the Media Lab.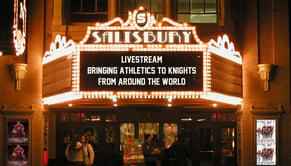 A dedicated few have even turned their work in the media lab into an afternoon program by forming the LiveStream Team. Using high-end filming equipment, the LiveStream Team films sports events which are streamed live on the School's YouTube channel for those not on the Hilltop to enjoy. This week, be sure to tune in to watch:
Varsity Basketball live vs. Canterbury - Tuesday Jan. 30 at 5:00pm
Varsity Hockey live vs. Trinity-Pawling - Wednesday Jan 31 at 4:15pm
Like other independent school students, Salisbury boys face full and demanding academic, extracurricular, and athletic schedules. Yet, with the freedom, guidance and opportunity to fuse their personal passions with opportunities grounded in the latest visual art technology, Salisbury graduates emerge with an appreciation for the digital arts and an understanding of the endless personal expression through this medium. With the chance to pause, create and reflect, Salisbury students find balance, mindfulness and possibility through our digital media lab.