Most every mainstream boarding school has a "learning center." This is different from a school specifically designed for students with learning differences. So, how does one differentiate between the offerings at mainstream schools? This is especially difficult when all schools use terms like "structure" and "support" and "tutoring." In this post, we'll offer some key points to considering when exploring boarding school learning centers.

History, Location and Accessibility
Be sure to learn more about the history, location and accessibility of a school's learning center. Questions to ask may include: How long has the school offered an integrated learning center? Is the learning center centrally located in one of the academic buildings? When do learning center sessions occur? Does the learning center foster a partnership with the teaching faculty? Are tutoring sessions conducted in a one-on-one setting? Is the learning center staffed with trained learning specialists?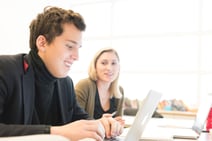 Salisbury, for example, has had an integrated learning support program since the 1940s. We have over 15 tutors working in our learning center, each of whom has their own dedicated workspace. At Salisbury, the learning center is located in one of our main academic buildings and, in addition to providing tutoring during the academic day, we offer a supervised study hall each evening, and several other academic support offerings with teaching faculty during the school day.
Integration, Training and Coordination
With full schedules and many responsibilities outside the academic day, boarding school students live busy lives. When considering a learning center, be sure to ask if tutoring is part of the academic day or an additional commitment beyond the academic schedule. It may also be helpful to know if tutors are full time, serve as advisors, or attend faculty meetings. Are the tutors learning specialists, or have they received specific training? And, what types of skill-based tutoring is available to students? Finally, consider how academic resource plans are developed -- do tutors complement the skills and content being taught in the classroom? Are teachers familiar with teaching students with learning differences? And, what other support options are available?
Here at Salisbury, the students involved in our learning center attend tutoring sessions built into their daily schedule, up to four times per week. Many of the tutors in our learning center are specialists in their field who serve full-time and regularly attend our faculty meetings. Some of our learning center specialists even have expertise in Orton-Gillingham and Wilson Language Training. We offer both skill-based tutoring and content-specific based tutoring in areas such as math, reading and writing. Our tutors work very closely with department chairs and classroom teachers to ensure their work is complementing each student's class work and preparing them for success. Beyond our learning center, we offer a supervised evening study hall for all students, as well as math and writing help during our all-school free block, which every student is welcome to take advantage of.
Accommodations
Perhaps one of the most critical questions a family can ask is that regarding accommodations. Because educational testing often has a long list of recommended accommodations based on one's academic needs, determining if the learning center can support your student is essential. Be sure to assess if the school and the learning center will support your child's needs: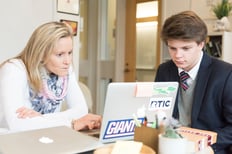 Extended time

Use of a calculator

Use of a laptop

Use of audio books

Foreign language waiver

Assistive technology

Etc..
Other Questions to Consider:
What percentage of your students are enrolled in the learning center?

What is the average level of support (hours per week, etc)

What is the communication with parents?

How integrated is learning support?

Does the learning center provide an action plan that is shared with teaching faculty?